Posted by William H. Starkey on 01 February 2012 12:37 PM
Let's get to the chase...
Factory Financing Know How...
Most of us want to know if we buy our new ride, can we afford it or persuade our spouse that you can. Flat Out has all the factory financing programs from Polaris, Yamaha, Suzuki, and Kawasaki. All the factory financing programs are thru these lenders: HSBC bank, Sheffield Financial Services or GE Capital. All the programs are branded as their own factory financing, but at the end of the day it's thru one of these lenders. These lenders are great in that they give the dealer like us quick decisions, the applications are transmitted by us and decisions are made by the lenders internal grading system. Occasionally we can get a denied turned into an approval, but generally the decision is final. All decisions are then mailed to the applicant.
Local Lenders Know How...
We have several local lenders that in many cases can be beat factory financing, I would like to list them but in fear of our competition I will keep them private. The rates are as low as 2.99% / 60 for well qualified applicants up to 21.99% for customers with credit challenges. It does take a few days to get an approval from these lenders but many times is well worth it for those that qualify. Keep in mind these rates are not subsidized by the factory like the factory rates. In some instances the factory financing is too good to pass up (i.e. 1.99% for 60 months), in those cases we will advise you all your options.
In General...
The powersports industry is normally looking for minimum of 625 FICO score. The traditional rates have been around 9%. I only state this because below you find a link to "Payment Estimator". I would suggest using 9% for 60 months to get an idea what your payment might look like.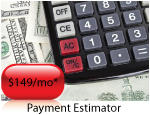 ---